Securing state-of-the-art horse trailers fit for champion cowboys and Hollywood stars
It doesn't matter your age, where you are from, or who is in the car with you—you're never too old to say "horsie" when passing by a horse trailer on the highway. If you're not part of the equine world, you may have never stopped to think about the trailer the horses are traveling in. We're here to tell you—not all horse trailers are created equally. For Bloomer Trailers, it's all about the components.
With an impressive customer list of professional cowboys, athletes, and entertainers, Bloomer Trailers touts themselves as the choice of champions. Bloomer builds custom, state-of-the-art horse trailers in Salado, Texas just north of Austin. The company sets their standards high and consistently strive to make every trailer with "only the best" components.
"We put the best money can buy on these trailers, build most in-house, and that way we control the quality," said Randy Bloomer, CEO of Bloomer Trailers.
Randy speaks from personal experience. He is a competitive team roper and shows horses, so he uses Bloomer Trailers on a regular basis. As a hands-on CEO, Randy is intimately involved in the research and development team, even going so far as traveling in the horse compartment to make sure they will be comfortable and stress-free.
"I understand what the horse needs to breathe correctly, how they need to be able to get their heads down to drain their sinuses," said Randy. "I did my homework, and with every trailer, we know that vibration equals fatigue, so we focused on how to make our trailers quieter and with less vibration."
When choosing components, Randy's team tries many different products to make sure they are the right fit. Choosing the correct lock for the trailers was no different. "Over the years, people have lost their keys, and then you're out of luck," said Randy. "To solve that problem, we tried a lot of keyless lock companies."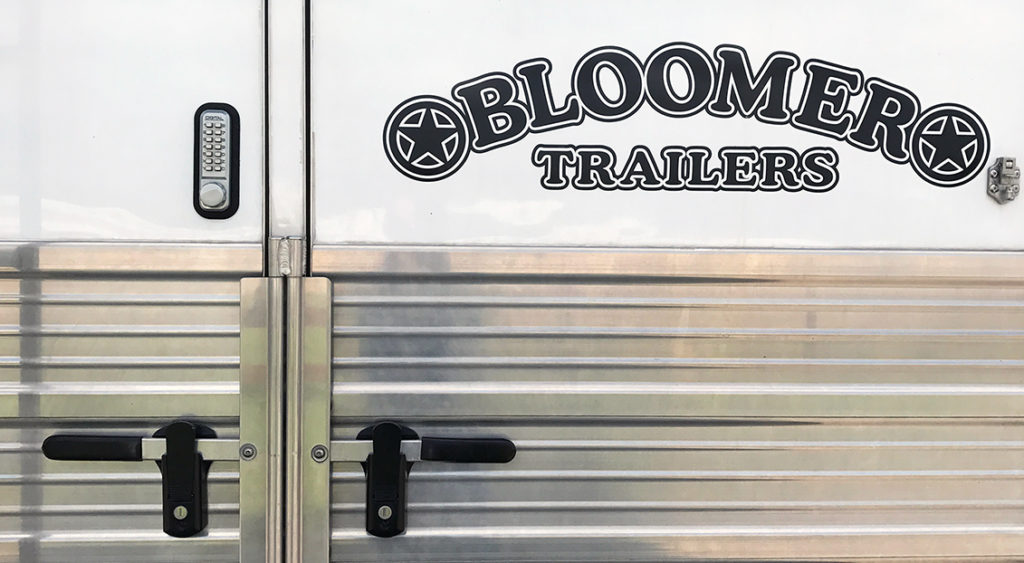 In 2005, Bloomer Trailers found LockeyUSA's 2210 keyless lock system and it has remained their preferred lock choice for more than 15 years.
"It accentuates the trailer and looks like it's supposed to be there," said Randy. "The mechanism is smoother than all the others we tried and is easy to set a preferred code."
The 2210 by Lockey is a keyless combination deadbolt lock that comes in a variety of finishes. It is weather-resistant, backed by a lifetime mechanical warranty, and completely mechanical, meaning no batteries or wires to worry about.
This past winter, when Texas had 25-year temperature lows, Randy's own trailer had frozen over. "Of all the times we have to get the horses and cows, this was the worst weather possible. It had sleeted and froze everything on the trailer," he said. Using a propane torch, Randy melted the ice off the lock, punched "C" and his code and turned the knob with a pair of pliers. The lock worked without a hitch.
Bloomer Trailers dedication to building the best trailer money could buy has given them quite the reputation in the equestrian world and beyond. Reputation means everything, and today, Randy sees the second and third generation of families purchasing Bloomer Trailers.
"It's flattering and it also makes you grit your teeth and strive for even better. I don't want my guys to have to be salesman out there. The trailers should speak for themselves," added Randy.
And speak for themselves, they do. The hit cowboy show Yellowstone starring Kevin Costner reached out to Randy for insight into their set and the trailers used. Randy spoke honestly and said that if this were real life, the Dutton Ranch would have a trailer from Bloomer Trailers. That conversation sparked a friendship and even earned Randy a cameo on the show.
Of his time spent on the set of Yellowstone, Randy said he spent two days on horseback with the crew and stars of the show and it was a great experience. As for how it's been for business, Randy said "It's a badge of honor for our customers, dealers, and distributors. It leads to a greater appreciation of the trailers for those who own one."
Be sure to tune into the fourth season of Yellowstone and keep an eye out for the LockeyUSA 2210 installed on the Bloomer Trailers. The lock may only get (less than) 15 seconds of fame in the show, but the relationship between Bloomer Trailers and LockeyUSA is here to stay.