Mykel Hicks was born to build. Growing up in Hawaii as a fourth-generation contractor, he learned from the best. His great grandfather, Harold Hicks, founded Hicks Homes in the early 1950s. He specialized in pre-designed homes and wanted customers to be able to "select a home model just as a shopper could select items in a department store." Since 1950, more than 17,000 Hicks Homes have been built in Hawaii, and in 2006, Harold Hicks was inducted into the Hawaii Building Industry Association Hall of Fame.
Watching his mother, grandmother, and uncles continue the legacy started by his great grandfather, Mykel not only learned his trade but what it takes to run a business. With a desire to expand his horizons, he moved to Orange County, California, and started his business, Hicks Exterior Accents.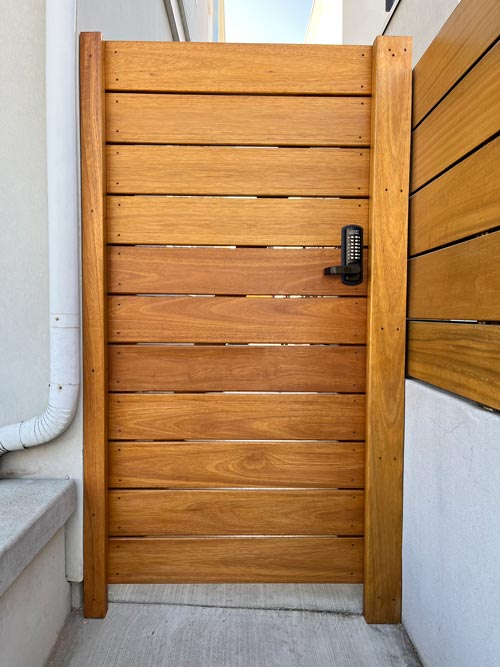 Owned by Mykel and his wife, Emily, Hicks Exterior Accents operates with a crew of 10 employees. They specialize in all things exterior, including gates, decks, pergolas, balconies, patio covers, siding, and more.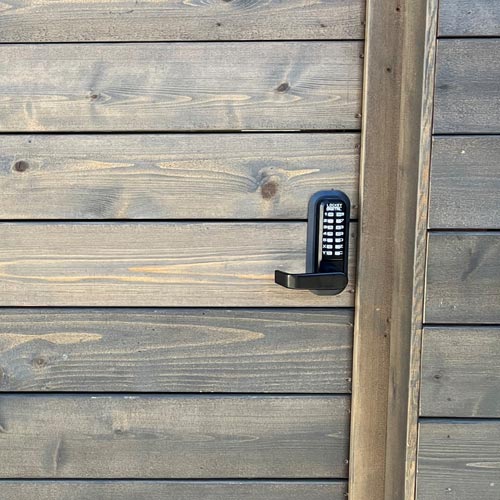 When designing gates, Hicks Exterior Accents recommends LockeyUSA mechanical keyless locks to his customers. "I recommend using a LockeyUSA mechanical lock for gates because it doesn't have batteries or electronics, and that's the way to go for exterior projects," said Hicks. "Most customers don't know what they want or don't have a preference. When I show them LockeyUSA keyless locks, that's the end of the story," he added, "because it's the product I trust." 
Hicks Exterior Accents has designed gates using the LockeyUSA 2835 Mechanical Keyless Lever Lock, 3835 Mechanical Keyless Lever Lock, and M210 Mechanical Keyless Deadbolt.
"Lockey makes it simple," he said. "The product is easy to install, even on gates up to 5-inches thick. I don't have to modify or use a different product because you have the extension kits. Plus, Lockey has options for deadbolt, lever, single-cylinder, double cylinder, lever, and knob. You guys have it all figured out already."
Mykel and the team at Hicks Exterior Accents take great pride in their work, and it is apparent in the projects they produce. In 2021, Mykel and his team were recognized with a Best of Houzz Award. "I love what I do, and for people to notice it and appreciate it makes all the hard work worth it," said Hicks.