Locking it down: From dome homes and bunkers to art studios and sheds
The phrase "home security" is well known for obvious reasons. Homeowners secure their homes to keep their family safe, keep intruders out, and to have peace of mind.
However, homes aren't the only types of structures that need security. Unique applications—buildings like dome homes, doomsayer hideouts, art studios, grow rooms for the booming cannabis industry, or even a simple enclosed trailer—they all need some form of security.
If you own or manage one of these unique applications, you may need help finding the perfect security solution. Below are some tips for securing your property while maintaining easy access for those who need it, including employees, customers, or approved visitors.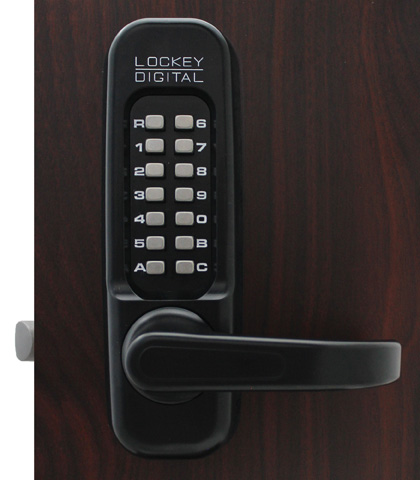 Consider keyless locks
Keyless locks will take away a lot of the headaches associated with traditional keyed locks—missing keys and the hassle of re-keying, locksmith fees, and the worry of unauthorized people gaining access with a copied key.
Perhaps you have a high turnover rate of employees or you're an artist who shares a studio. Forego the traditional lock and key for a keyless lock system. When an employee leaves or your partner at the art studio goes their separate way, all you need to do is change the code; that's it. No more handing out and managing keys, replacing keys, or even replacing locks.
Say you're a cannabis grower who needs access for your team, but the building must stay locked at all times. Choose an auto-locking lever lock like our 1150 Heavy Duty Lever Lock, which is secured at four mounting points and features a vandal-resistant recessed keypad.
Unique door configuration? No problem. LockeyUSA has a variety of keyless locks that work for non-traditional doors. See our selection of surface mount keyless locks that are ideal for securing trailer doors, sheds, cabinets, and more.
For sliding doors, consider the LockeyUSA 2500 Hook Bolt or LockeyUSA 2500KO Hook Bolt with Key Override. For light-duty sliding doors, the C150 Hook Bolt features a low-profile look and mounts above or below existing door hardware.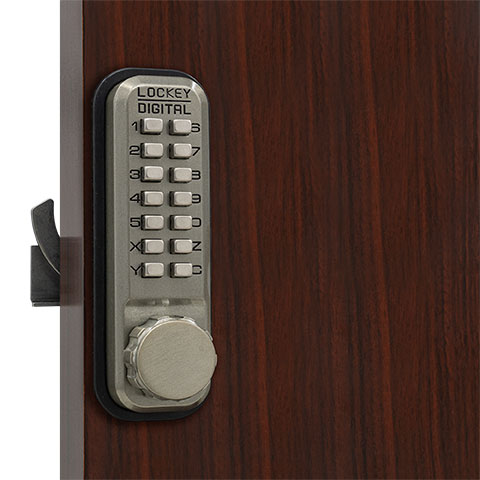 Gate hardware can provide extra safety and security
Unique structures and building uses can often be a point of interest and attract unwanted attention. For that reason, it is important to secure the perimeter around any unique application by adding fencing with high-quality gate hardware. Perimeter fencing will improve security and create separation. LockeyUSA offers many gate hardware solutions including gate locks compatible with gate boxes, gate closers, and panic exit hardware kits for gates.
We recommend installing hardware that ensures gates are self-closing and self-latching. To keep gates closing without slamming after every use, install a gate closer like the TB200 Hydraulic Gate Closer offering a quiet hydraulic action for easy closing of pedestrian gates. For lighter gates with less traffic, try the TB175 Garden Gate Closer, equipped with a hold-open feature, and adjustable closing and latching speed.
Want even more security? LockeyUSA has many options for installing keyless combination locks on gates. Weldable steel and aluminum gate boxes are available for the full range of mechanical keyless locks. Not looking to weld? Don't fret, LockeyUSA offers an adapter for the 2835 Mechanical Lever and 2830 Mechanical Knob Lock that requires no welding and fits thick gates without an extension kit.
Another no-weld option for adding keyless security to the gate is the GBS2000 Mechanically Attached Gate Box, which works for 2" square gate frames and installs without welding. The GBS2000 is a great solution for adding a gate box without the need for welding and comes powder-coated black.
Contact LockeyUSA
Whether your structure is a spectacular and curiosity-seeking dome home, a grow room, artist studio, or she shed, you want to secure it. LockeyUSA provides security and convenience and offers a vast selection of door and gate security hardware for any type of structure.
If you're not sure which keyless lock or gate hardware solution is best for your unique application, the LockeyUSA sales and customer support teams are available to help. Contact us and we'll help you find the best solution. To learn more about our products, visit LockeyUSA.com.